Aging Gardens
of
Joe Landsberger
Saint Paul, Minnesota


Houseplants |
Installations and art |
Maintenance |
West End Neighbors
Garden and History Tours
Kiosk: Guides for learning
A free educational service
Virtual Tour of the Leech Street
Perennials in June:

2023:
Epimedium grandiflorum 'Spring Wedding
Also called Barrenwort. A lovely clumping, spreading sign of spring.
I've a collection of eight epimedium from Oregon!
---
June 1:
Pink-tinged trillium (Trillium grandiflorum roseum)
from Cousin Butch's forest.
---

June 2:
Wood Anemone (Anemone nemorosa)
---

June 2:
Willowleaf bluestar (Amsonia tabernaemontana)
---

June 3:
Geranium cantabrigiense 'Biokovo' in the process of colonizing its space.
---

June 4:
Cow parsnip (Heracleum maximum)
In the carrot family. Wikipedia: "The thick flower stems, coming into season in early summer, can be peeled and eaten cooked when young... Cow parsnip is a valuable pasture plant for cows, sheep, and goats. It is also known to be important in the diets of numerous wild animals, especially bears, both grizzly and black." However I only have rabbits, raccoons and possum and they have not discovered it. But an interesting (vertical) addition to a perennial garden. Tiny woodland strawberry is at its base.
---

June 5:
White peony
---

June 5:
Tokudama hosta after the rain
The leaves are a thick dark rich blue to green later summer, seer suckered. Mid-sized, thick leaves.
---

June 6:
Jackmani Clematis Vine
---

June 6:
Clematis integrifolia
Commonly known as solitary clematis, is a non-climbing, woody-based, herbaceous perennial that typically grows in a dense, upright to sprawling, shrubby mound of undivided leaves to 12-24 tall.
---

June 8:
"Peony! Paeonia lactiflora
Early bloomer nown for its golden center of stamens, perhaps "pink dawn"
---

June 9:
Goatsbeard, (Aruncus dioicus)
---

June 9:
Hedgerow cranesbill (geranium pyrenaicum)
---

June 9:
Rescued red shrub rose
---

June 10:
Hosta garden
---

June 10:
Alley daisies.
---

June 11:
Coral bells (heuchera)
---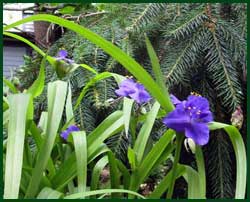 June 13:
Spiderwort (Tradescantia)
---

June 14:
Bellflower (Harebell Campanula Rotundifolia or Campanula Takesimana
Native to Korea)
---

June 14:
White shrub rose
---

June 15:
Peony...
---

June 16:
Sweet Autumn Clematis (Paniculata)
Be not deceived: my clematis must be a sport since it always blooms in early summer.
---

June 16:
Spiraea Japonica
With Horace's "egg" a sculpture by neighborhood artist Marty Hicks
---
June 17:
Hosta garden #2
---

June 18::
Rodgersia aesculifolia
Rodgersia is primitive in appearance and eventually sends out a plumed flower.
---

June 20:
Sedum garden

---

June 21:
Astilbe, worm's eye view
---

June 24:
Shieldleaf (Astilboides tabularis) is in bloom
---

June 25:
Astilbe in bloom
Rising to the morning sunlight
---

June 27:
Garden lilies in bloom
---

June 28:
Garden (Asiatic) lilies in the rain
Backdrop of willowleaf bluestar (Amsonia tabernaemontana) for a decided Japanese tableau