Aging Gardens
of
Joe Landsberger
Saint Paul, Minnesota


Houseplants |
Installations and art |
Maintenance |
West End Neighbors
Garden and History Tours
Kiosk: Guides for learning
A free educational service
Virtual Tour of the
Leech Street Gardens:
Joe Landsberger's gardening began in his family's when he uprooted a strawberry patch. Fast forward to his 20's he participated in a horticultural program in Togo, West Africa as a member of the U.S. Peace Corps. Since then his home gardens have been featured on garden tours; he developed the North High Bridge Park; and he has championed the West End Neighbors' Garden and History Tour WENGT, 2008-2020.
In 1979 Joe bought a challenged 1880 Victorian Stick Style house that offered great promise, situated on a point on the bluff of the Mississippi River. Now only the giant hackberry tree stands from that time, joined by Japanese-inspired hardscape and innumerable plantings.
Over time the gardens have taken on a life of their own. One friend said that his plants don't bother to put down their roots since they know they'll just be moved anyway.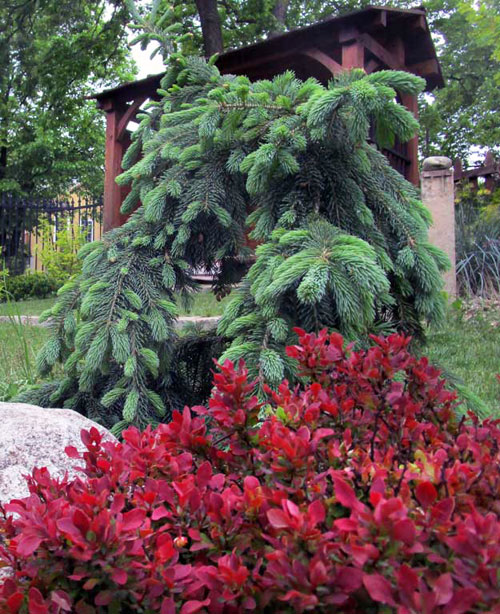 I sold my bluffside home of 40+ years in 2022 when with my partner Steve we moved next door to a house we built and gardens we developed the previous 12 years. Aside from marginally diverse plantings, Leech Street gardens included an 18-foot traditional Japanese gate (torii), a moon-viewing pavilion, natural Kasota stone installations, two granite lanterns, seven-foot vintage fencing from the local Schmidt Brewery (1860/1900), and bench fashioned from its keg cradles.
In 2017, through the COVID years, we began a rebuild of the cottage—three floors! The exterior ground level has Shou Sugi Ban, traditional Japanese fire-preserved cypress; the upper floors are board and batten painted red, and custom balconies give onto the Mississippi River valley. The interior incorporates reclaimed cast iron, hard woods, and built-in accessibility including three-stop elevator. The ground floor includes a conservatory-gallery, office and utilities; first floor: kitchen, dining/living rooms, and sitting-bed-bath suite; second floor: sitting-bed-bath suite and guest room.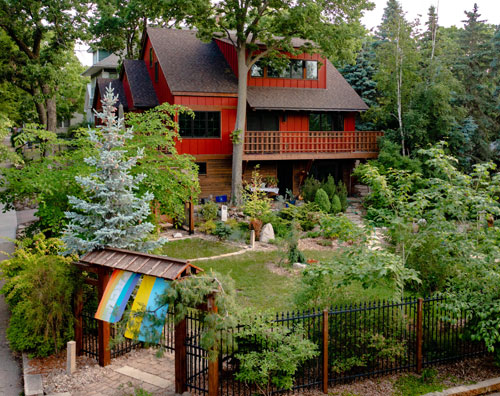 Joe celebrated COVID by starting this Website in 2020. The garden's invventory of plantings is detailed by date/month and includes marginally hardy perennials, ground covers, shrubs, trees, houseplants, and installations. They list common and botanical names of plants that have mostly thrived in a somewhat sheltered Zone 5 Minnesota (!) environment. Index is at left
My residential gardens on Leech Street, and previous residence next door, have been featured in several garden tours including the West End Neighbors' Garden Tour in the Fort Road/West Seventh Street neighborhoods of Saint Paul. I was responsible for the thirteen West End Neighbors Garden and History Tours (.pdf's), research, authoring, layout and promotion.
KARE11 Belinda Jensen Backyard weather
On June 24, 2011 our gardens were featured on Channel 11 KARE News at 5 and 6 p.m. Belinda Jensen interviewed me and Steve about the gardens, as well as the local community and its history.